Most repairs are simple and require the use of only a few tools. It's helpful if you can read a wiring schematic, but not necessary, since many owners are "install-new-parts-and-see-if-the-washer-works" mechanics. Once you've owned your Laundromat for a while you'll discover that most machine failures are easy to trouble-shoot, with each brand of equipment having its own characteristic failures. Once you've learned the symptoms of your brand, the repairs are fast and easy. Some problems, however, are big enough that you need to ask a professional for help (bearing replacement,etc.)unless you are really into tools, maintenance manuals and repair classes. Some owners can do the repairs but prefer to use the abundant supply of qualified repair people who will work on an hourly basis at reasonable rates or on a monthly contract.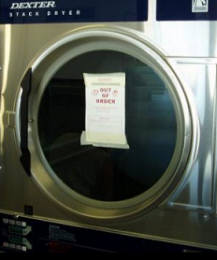 2. LAUNDROMAT PARTS AND SPECIALIZED REPAIRS
CHANGER REPAIR
Bill Changer,(old Standard Changer repair location) 562.942-7188
Bill Changer & Computer Board Repair, Coin Tech, 888.264-6832
Bill Changer, David Hyunh, 629-393-1959 714.493-6578
Eagle Tech, Sal/Diane,
WATER HEATERS
Water Heater Repair, Roger Maurice, 818.554-0381
Water Heater Repair, Mehra Service, 323.225-1856
Water Heater Repair, Alternate Water Heating, 818.348-4436
Water Heater Repairs, Avelleo 714.200-6071
MOTORS & MOTOR REWINDING
Motor Rewinding & Pumps, Laundry Motors, 800.795-0698
Motor Rewinding Specialist, Steve's Electric, 323.666-6972
Motor Rewinding Specialist, Fox Electric, 714.995-3947
AUTOMATIC DOOR UNLOCKING DEVICES, SECURITY CAMERAS & ALARM SYSTEMS
California Protection, George, 818.773-0340
MISCELLANEOUS SERVICES
Duct Cleaning, Air Doctor, 800.584-5941
Video Games, Peter, 562.809-9052
Soda & Snack Machines, Roger Kim, 323.726-8002
Mike Alves, The Vending Guy, 1-800-421-1184

Any person or company on this website is provided for your convenience only; the services or results are not guaranteed by Laundromat123.com. Negotiate your own deals and verify the price and quality of service before you enter into a contract. These listing are only for the southern California area.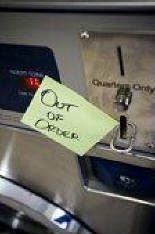 Once you own a Laundromat you get the fun of keeping the equipment operating. If you're thinking about buying a Laundromat and wonder if you have the potential to maintain your own machines, here's my two question test to see if you have what it takes. 1) Can you change the bag in your vacuum cleaner? If your answer is yes, you are capable of learning 50% of the skills necessary to maintain your Laundromat. 2) Can you change the rubber drive belt on your vacuum cleaner? If your answer is yes, you are capable of learning up to 99% of the skills necessary to maintain your Laundromat.
3. ONE DAY YOU MAY DO YOUR OWN REPAIRS
To keep your Laundromat operating properly here are three things that owners should know. First, make sure you find a good repairman. Second, make sure you know where to get specialized repairs. Third, learn to do some repairs yourself.
KEEP YOUR LAUNDROMAT EQUIPMENT OPERATING
SERVICE & REPAIR PEOPLE IN CALIFORNIA


1. WASHER & DRYER REPAIR PEOPLE
REPAIR
Alvaro Ortiz, C:323-873-4408 O:323-842-0540
Scott Freeman, C:310.245-1540
Sergio Castregjon, 323-893-2612
Dan Macri Laundry Service, C:714.235-2969
L & C Service, Lee, 213-550-8733
Speed Queen Service, 323-997-0774
Al Ceja, 818-470-6766
Dave's Appliance Repair, 714.616-4954

INSTALLATION
Equipment Install, Bob Sabean,
Equipment Install, Ramy Duarte, 951.531-5849